Digital marketing has changed drastically in the last few years. With the rise of social media and mobile devices, it's more important than ever for real estate agents to stay up-to-date with the latest trends.
There are many real estate apps now on the market, but only a few of them deserve prominence. These include enabling realtors, brokers, landlords, and various other players to make more money and stay in the game.
If you're excited about the widespread possibilities that a real estate app provides, then this guide is for you. In this in-depth guide, we'll explore the top reasons why a real estate app can give your business an edge in our modern world.
Reasons Why Your Real Estate Business Needs an App
Here are a few reasons why you need an app for your real estate business.
Real Estate Apps Enhances UX
When you use popular real estate apps like Zillow, you will notice that the UI is far more intuitive than on their website.
They have made finding the perfect apartment or house simple. All you need to do is enter some general criteria, hit enter, and voila – listings will pop up! Plus, it's easy to filter listings based on different search criteria. Plus, readers can quickly scroll through photos and learn more about the property that's for rent or for sale.
You need a mobile app if you want to make your digital experience available at all times. Not just during office hours or when someone is looking for a website to visit. With our easy-to-use app, you'll have customers visiting on their smartphones and tablets, too.
Mobile sites aren't as responsive and can't access the phone's internal components in the same way that an app can.
While browsing from a tablet, people spend nearly three times the amount of time than they do when using their smartphone. But when on one's phone, users spend more than four times the amount of time browsing than they would on their keyboard and mouse.
Real Estate Apps Drive Engagement
Apps are a more engaging digital touchpoint than any other. With apps, you can offer a more compelling user experience.
Getting your app downloaded just takes seconds. People can navigate to your app with a single click, which is much faster than opening a web browser and manually typing in a website—they'll have a much better experience using your app.
Studies show that people who start using an app the first week are highly engaged.
One major benefit of mobile apps is that they're twice as likely to be retained by users than mobile websites. If you can get people to download your app, there's a good chance they'll stay loyal to your brand too.
The number of people who are actively using real estate apps is astonishing—70% of them use the app at least three times per week.
Even if not everyone is using your app regularly, it's much easier to drive engagement with an app. If a user doesn't open your app for a few days, you can send them a push notification about new listings. This will encourage inactive users to open your app.
If you want more traffic to your site, email marketing is a great way to go. It's a lot more effective than just creating a website alone.
Real Estate Agents Can Build Their Personal Brands
If you're looking for the best real estate app to work with, we've got your covered. You don't have to be an experienced broker or have a big company for us to design a premier agent app for you.
One app isn't likely to be able to dominate the industry on its own. It's important for real estate apps to find their niche and do what they're good at.
You can use these apps to stay local and focus on your market, rather than giving the app to prospects right away.
To help you boost your sales, give yourself an advantage over your competitors by putting the needs of potential buyers first. Imagine yourself as a home buyer looking for the perfect place to live. You're probably not the only agent they're speaking with, but if you could live in their pocket—literally and figuratively—through an app on their phone, that would give you an edge.
As a seller on a mobile app, it will be easier to find qualified buyers. This is because the same concept can be applied to the buyer. Buyers are more inclined to purchase a list of homes if they have access to an app. They'll see this as helping them make decisions faster so they can find their perfect home sooner.
Keep Up with Real Estate Market Trends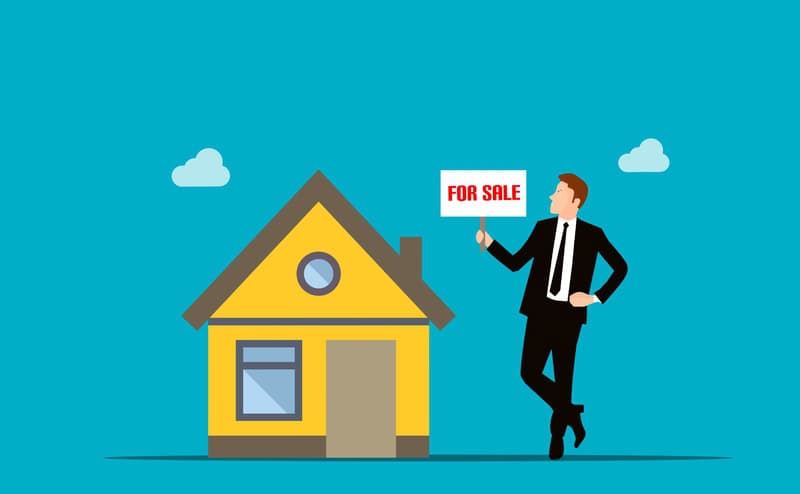 Downloads of real estate apps in the United States have increased by 15%. In the UK, app downloads have increased by 7.6%.
A real estate mobile app is a must-have in this day and age.
The real estate industry is now quickly catching up to new tech and trends. Buyers and sellers are already using apps like Zillow and Redfin to buy, sell, or rent homes. This has set a precedent for how they expect the buying, selling, or renting experience to be.
If you don't offer your customers the tools they need to get the job done, they'll get frustrated. It's in your best interest to provide them with the tools that make it easy for them to do what they need to do – and keep them on your site or app.
It sounds like a stretch, but it's the same thing as trying to run a real estate business without an email address. But 20 years ago, this was definitely happening.
These days, people don't need to find and share listings without a mobile app. We're living in what will one day be known as the app-driven era. In 20 years, people will look back and say can you believe we used to do anything without our phone?
Reach a Wider Audience
With an app, you can target new customers with ease.
For instance, if you've spent your career selling houses, it might be a lot easier to start with an app.
One of the many ways to use this app is to connect landlords and property managers. You could also tailor parts of the app specifically to real estate investors.
Your app can do things that your website, email, or social media management system cannot. With its incredible versatility, you're free to target anyone and anything—all with a single device.
It's easy to get your app into the hands of any potential customer– only a few clicks can put it in the Google Play Store and Apple App Store for anyone to download.
Being on a business directory will expose you to even more people who can't find you through other methods. That's because most directories are compiled by search engines and social sites.
Showcase Your Team of Real Estate Agents
With real estate apps it's easy to find an agent in your area who fits all the criteria you're looking for. You can use this app to instantly connect your clients with the perfect agent based on location and other preferences.
Let's say a new property listing comes up for one of your clients. When the app user reaches out to get more information about this new listing, the app can connect them with an agent automatically.
A company can use the Buyer's Agent app to help their potential customers learn more about who they offer their service.
High ROI on Property Listings
Investing on a real estate app can help you get a high return on investment. Agents love to use apps because it helps them sell more and deliver a better experience to clients which in turn contributes to higher ROI.
For example, an app can help you conduct virtual tours or give potential buyers instant access to available properties. This can help you save time and avoid instances where you cannot show property in person to prospective buyers and realize that it's not the right property for them.
Instead, you can focus on spending your time selling compared to dealing with minor details that can be accomplished using the app.
Final Thoughts 
Mobile apps are now a must-have for real estate companies, agents and brokers. Apps are versatile and you can use them in different ways to serve your customers and improve your business.
There are many opportunities to reach customers like providing them simple mortgage calculators or a a full-service app.