In today's digital era, social media is one of the ultimate ways for businesses to excel in this tough competition and reach to the prospective audience. It has become vital for the businesses to have an active presence on all major social networking sites like Facebook, Twitter, LinkedIn and others for engaging with its prospective and current customers in a new way. Social media has turned out to be the most effective ways for a business to bring huge traffic and generate new leads.
Though it is a tough task to manage all the social media platforms simultaneously it is not impossible. In such a scenario, social media management tools come in handy. It helps the marketers track interactions with their brand and enable them to respond accordingly.
Social Media Management App: An Overview
Social Media management apps are an ultimate solution for monitoring and updating your social media accounts together. There are several social media management apps that allow you to line up posts in advance, receive more details on your social sites with analytics tools and many more. Such tools can supercharge how your team makes use of social media as an effective marketing tool and allows you to attain new insights in your community.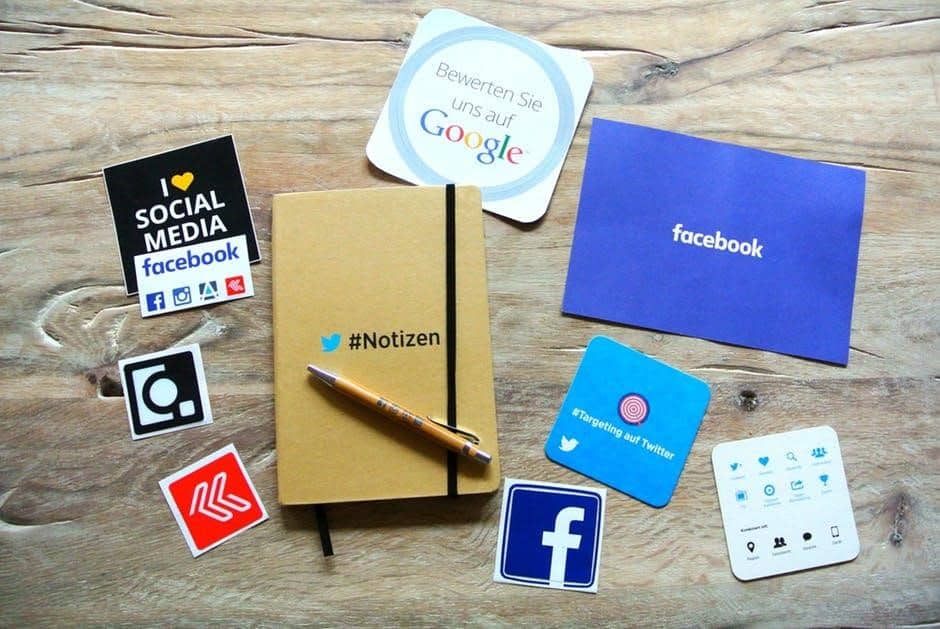 Latest Social Media Tools
These days, social media management has turned out to be a significant area that needs to be paid special attention. Irrespective of the scale and size of the enterprise, it is important to make an active presence on varied social networking sites such as LinkedIn, Twitter or Facebook. But, the major question is how to handle these social networking platforms.
In this article, we are listing some of the top social management tools that are extensively utilized by marketers to handle these trending platforms.
1) Sprout Social:
https://sproutsocial.com/
Sprout Social is the most sought-after solution for tasks related to social media. It comes with an initiative interface that permits you to handle your several accounts, line up your posts and keep a check on post-performance. Moreover, it enables users to handle, schedule or collaborate messages for varied social networking sites like Twitter, LinkedIn or Facebook.
Add On Benefits
? Automatically notices distinct activities on all social networking sites.
? Helps users to always remain up to date and get the latest information.
? Assists you in analyzing an individual post as a single feed.

2) Oktopost:
https://www.oktopost.com/
Utilization of this tool can be highly advantageous if anyone wishes to generate enhanced business leads. With the help of Oktopost, marketers, as well as campaign managers, can measure and assign a fiscal value to inbound leads which are created via distributing social media posts.
Essential Features
? Plans and designs promotional campaigns.
? Offers analytic and generates track records.
? Spreads huge content on social networking sites.

3) Buffer:
https://buffer.com
Trusted by the big brand names, agencies, individuals and businesses, Buffer is a streamlined social media management tool that assists in driving meaning results and engagement on social media. It offers a simple and wise way to optimize social media platform. In addition to this, Buffer shares your content at the suitable time throughout the day and keeps the record of all the links in order to see which content is getting more traction.
Captivating Traits
? Comes with simple to use interface that makes the team more dynamic.
? Perfect for broadcasting.
? Assists in maintaining constant social media schedule for several weeks without even minimizing the delivery times.
4) Sendible:
https://sendible.com
Sendible is a prominent social media management tool that collects all the comments and posts from social networking sites like Twitter, Flickr, and Facebook making it simpler to handle and respond to all the sites from one single place. Every post is examined and messages that need immediate attention are highlighted. After that, users deal with important messages that need an instant response without any delay. Just like any other social media management platform, Sendible enables you to engage with your online communities across multifarious platforms, track and evaluate your email campaigns and social media, analyze the success of your shared content and many more.
Eye-catchy Features
? Assist in creating higher conversion rates.
? Offer latest and advanced targeting for social ads.
? Ensure effective collaboration, publishing and CRM.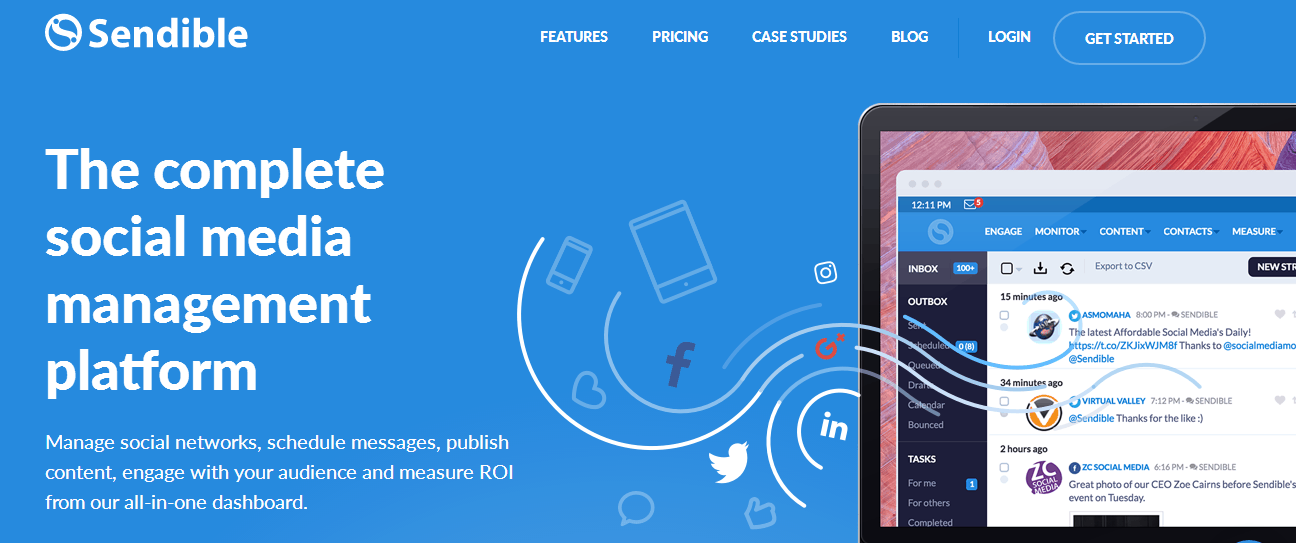 5) BuzzBundle:
https://www.buzzbundle.com
Popularly known for its wide range of operations performed, Buzzbundle enables the users to include an extensive range of social media platforms at a place. Apart from social media platforms, it handles all the forums, blogs and Q7A websites for monitoring promotional activities. This application comes in two varied versions. One is free edition that offers you limited access to its functionalities. On the other hand, you can purchase the professional edition for $199 and get infinite access to its exceptional features.
Outstanding Traits
? Assist in shooting private messages on all channels at the same time.
? You can easily design 5 cloud projects and save your history.
? Permit users to comment on the received feedback or replies.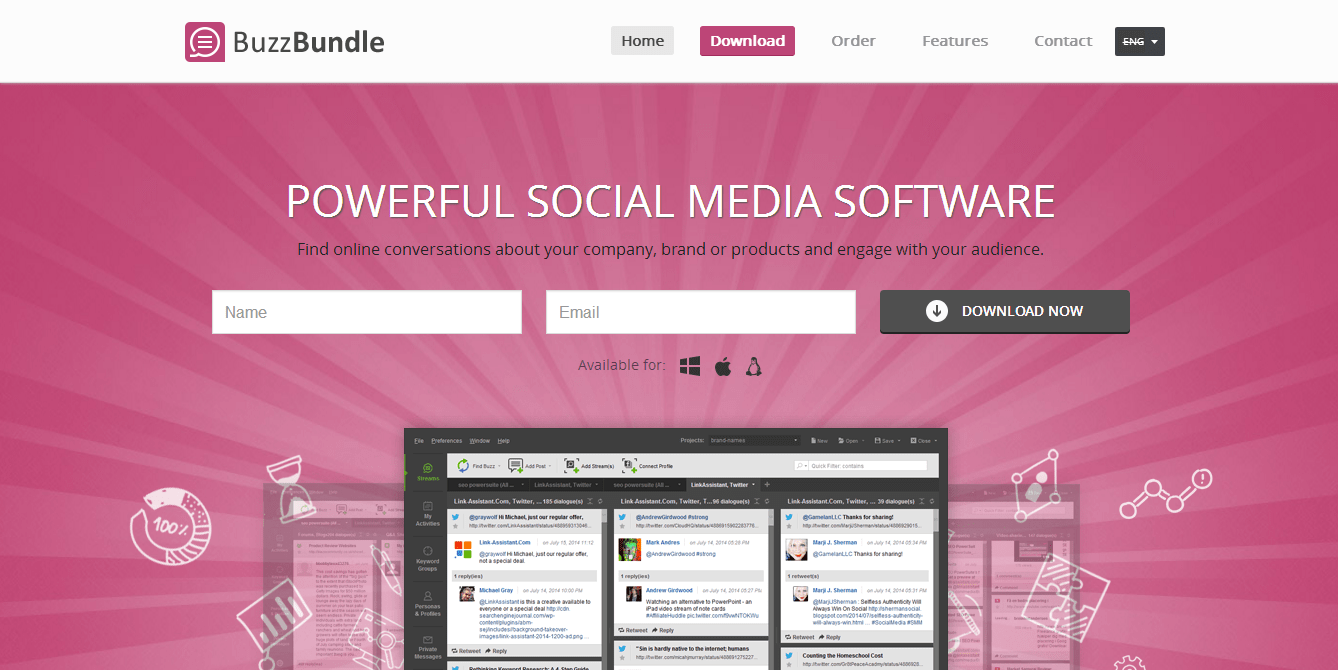 Ending Notes
To sum up, selecting the right social media management tool needs you to have a good understanding of your business requirements. These tools help you enhance the chances of huge traffic and business prospects. Ensure to choose the tool that improves what you are already doing on social media presently. The above-stated tools are the perfect illustrations of social media tools that are widely used across the market by the marketing experts. You can select the one that best suits your requirements and optimize your business insights.
Author Bio: Steven Bowen is a columnist and professional blogger associated with No-refresh :Online T-Shirt Design Tool Provider, who likes sharing informative post with high-quality content to enhance the visitors' knowledge.