B2B: Best Ideas For Your Instagram Post! Business owners often face skepticism when they introduce social media to their marketing strategy. The reality is that there are a lot of Instagram post ideas out there.
Despite its popularity, benefits, and trends, Instagram is still unfamiliar to many businesses. Especially B2B companies. There is a long misconception that Instagram is strictly a social media platform for consumers.
It might seem like Instagram is all about celebrities, vacations, food, and entertainment. In general, it would be too expensive for a B2B company to focus on this social media channel. However, there are many cases where this is not true.
Truth is, B2B buyers are on Instagram. You just need to think of a way to reach them. Today, let's explore some content ideas that content managers and entrepreneurs can use to get more mileage for their B2B marketing efforts on Instagram.
Benefits of Instagram for B2B
Instagram has been one of the most popular social media platforms for B2B companies. According to TrackMaven, engagement rates on Instagram are 20X higher than on LinkedIn. It's also important for driving sales and can provide you opportunities such as:
Strengthening brand image
Creating brand awareness
Putting a human face to your grand. Reports from McKinsey discovered that 80% of millennials buy from brands they identify with
Engage customers in order to create a positive consumer experience with your brand
Share new insights about products and services
Make marketing campaigns more effective by collecting feedback
Entrepreneurs need Instagram to build an audience get customer loyalty. Here are content ideas to get you started on Instagram.
10 B2B Instagram Posts Ideas You Should Share
Here are 10 ideas for B2B Instagram posts that will help you connect with your audience and promote your business.
1. Thought Leadership Content
Supplying your audience with valuable and interesting content is an integral part of marketing. To get the most out of your products and services, you'll need to share emotion-based visual content that supports your business ideas. It doesn't have to include "market dominance" and "savviness" every time. Create an emotional connection with each infographic or image, and make sure your CTAs are related to what you want people to do.
You can also add some important quotes from your team members and any other pieces of content that makes you unique.
2. Your Product Images
Instagram is image-based, so it's the perfect place to show off the images of your products. Use your product images to boost customer awareness and get people excited about new product updates.
B2B companies can find a lot of success on Instagram. Share news and updates, get creative with your visual content – this will help you stand out and make an impression.
3. User Generated Content
User-generated content is any text, video, review, or other type of piece written or published by people outside your company.
User-generated content is making a comeback. This type of content is perfect for B2B businesses. It helps to show your brand's authenticity and builds engagement with your Instagram community by creating a voice for them.
New hashtags can be a fantastic way to find content for your feed or for valuable #hashtags to use on your own posts or company account. You can easily find great content on posts and images with the help of special tools.
4. Jazzed-up Staff Working Behind the Scenes
Even if you already have a solid Instagram account, your employees can be an incredible source of new content. But often, employees are some of the most underused referral resources from a content distribution perspective.
Here are reasons why employee content works.
98% of employees have at least 1 social media account they use and 50% if them post about their company.
Content shared by employees on social media creates 8x more engagement than content from official channels.
Leads generated from employees on social media convert 7x more than leads from other sources.
Word-of-mouth and peer-to-peer referrals are 4X more effective than paid media.
Now, you might be thinking to yourself that this isn't something you can ask of your employees. And for many of us, it's not as easy to share on social media. But you're making a huge mistake–letting your team create content for you is one of the best and easiest ways to increase reach, engagement, and conversions.
5. Showcase Podcasts and Webinars as Instagram Reels
Short videos are on their way to taking over the internet. With Instagram, for example, you can make a short video and publish it for your followers to see and interact with.
Use Instagram Reels to showcase bespoke short clips of your podcasts and webinars. These clips can go viral quickly, so make sure to share them with your followers.
6. The Return of Throwback Thursdays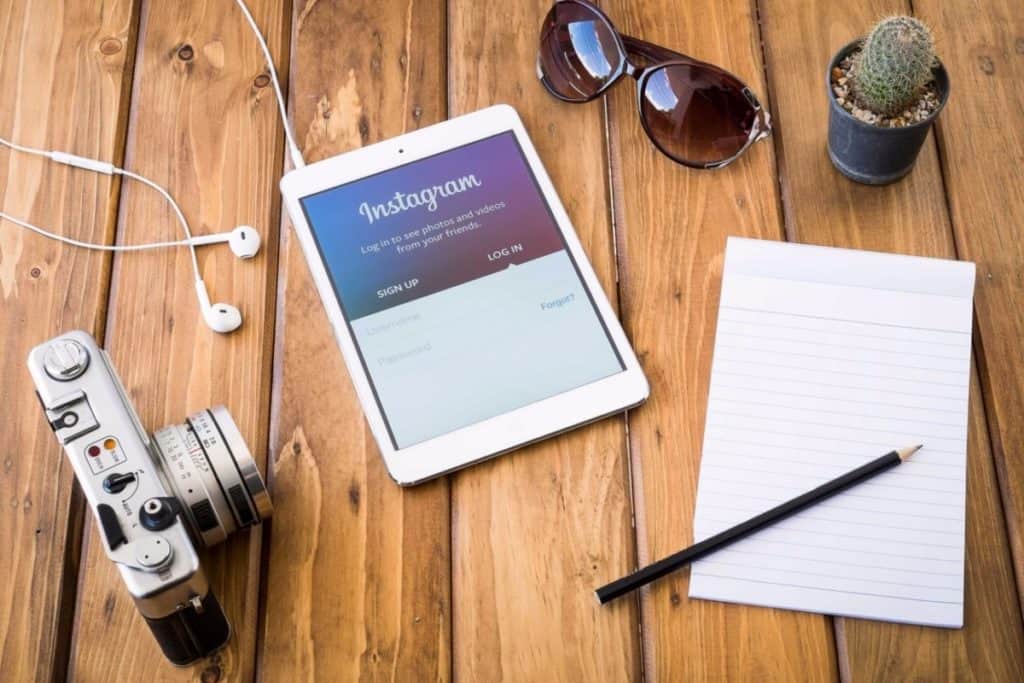 Want to find something interesting? Dig through the archives! This can be a great way to connect with your history, and share it with others on social media. Our favorite term is Thursdays, and that's why we love posting #ThrowbackThursdays (#TBT) content every week.
As a B2B company, the past is to be celebrated. Take some time to search for historical content-images, ads, and blog posts from the beginning. Historical content will show potential customers your evolution and help them appreciate your growth.
7. Recreated FAQs as Instagram Posts
If you have any product-led content, but it's not in a visual format, there are many ways to transform your content into something people will be more likely to interact with. Think small chunks of information that appeal to your target audience and present them in engaging carousel posts. These can include an immersive experience with step-by-step how-to guides or a helpful checklist.
This tactic is an effective way to generate new content, repurpose old content and see the return in more website traffic.
Frequently Asked Questions (FAQs) are a great way to share your product's perks and benefits. So, can FAQs help with your Instagram strategy? Absolutely.
8. Partner with Influencers for Content
Working with influencers can help you drive a higher ROI than other advertising options. They'll increase your credibility, create more significant impact, and grow your following. Influencers also help increase profit margins five times beyond banner ads.
It's no longer enough to succeed in B2B marketing. It takes influencers to spread your brand's impact on social media. The power of social proof is strong, and influencers are the fuel that drives it. They'll persuade their large following to support you, buy your product on Instagram, follow you, or share their thoughts about your brand.
9. Lead Magnet Content that Directs Back to Your Bio Link
A lead magnet is a social media marketing technique for collecting as many contact details from potential customers as possible.
To stay top-of-mind with your followers, you can use lead magnets to cultivate relationships. To prompt action from potential clients, share some useful resources that you can create a template from, guide them to take advantage of a discount, and even offer them a free appointment.
10. IGTV Videos
For many years, IGTV videos could only be up to 60 seconds long. Now though, you can upload a video that lasts as long as you want. The only drawback is that you have to tag it with #IGTV in order for it to show up in the grid.
Essentially, anything on YouTube can fit nicely on IGTV. If you're looking to edit your long videos before posting them to Instagram, there are a variety of video editors that will make your life easier like Canva, Descript, or Adobe. With today's standards, IGTV is no longer just vertical videos – you can make both portrait and landscape videos. This provides you with the opportunity to repurpose old content or share new video content with your audience. If you find it challenging to remix your existing library of content, try hiring Duplikit or Novel Classic.