Case Study – Magento Ecommerce Web Development
Client: Medtel Pty Ltd
The Client: JLM Accutek Health Care is an Australian based health and medical company that focuses on selling medical equipment, devices and consumables to public hospitals, private practice and consumers. JLM Accutek and Medtel (medtel.com.au) are a part of the Getz group (www.getz.com), a multinational medical company with 50 locations in 25 countries.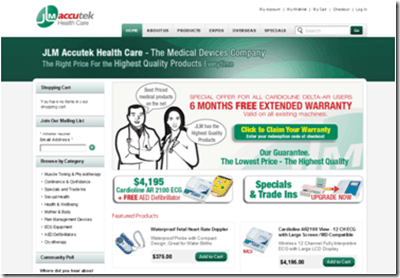 The Brief: Traditionally JLM Accutek has focused on selling B2B to hospitals and physicians but intends to diversify its range to target GPs and consumer health. JLM Accutek wishes to develop a hybrid website that shares the same database and web engine, but populates 2 websites for both its B2B & B2C markets.
Website Objectives
JLM Accutek Health Care seeks to create a dynamic, updatable 2 part hybrid website to achieve 2 objectives:
• Refresh our existing web presence for our B2B market at our existing domain
• Develop a new online e-comm channel for our B2C market at a new domain
• Develop a Content Management System (CMS) capable to support, update and refresh the designed web structure which can be edited in house by appointed administrators
E-Business Objectives
• Refresh current web presence for our existing hospital and physician market to support our sales force functions
• Develop a new e-comm distribution channel to target GPs with lower priced generic medical products
• Develop a new e-comm distribution channel to target consumers with lower priced health & lifestyle products, competing against retail pharmacies & specialty stores on cost.
• Collect market demographic data on shopping behaviour
• Develop an automated loyalty program for customers
The following services were provided:
• Graphic Design
• e-Commerce solution with multiple sites.
• Data migration.
• Open source programming.
• Custom modification of numerous features covering 5 pages. to allow quoting only feature.
• Full SEO site architecture to increase Google rankings.
•Large scale project 320 hours development time.
Results Achieved:
• Total refresh of the company website, creating a new online presence.
•Created 3 websites that are easy to use and update for the company internally while representing their different brands and divisions.
Site: www.jlmaccutekonline.com.au