In today's fast-paced and ever-evolving world of commerce, choosing the right payment options for your business can make all the difference. Whether you own a small local shop or run an e-commerce empire, finding a reliable and efficient way to accept payments is crucial. With countless options available in the market, it can be overwhelming to navigate through the sea of choices. That's why we have curated a list of the best payment options for businesses that will streamline your transactions, enhance customer satisfaction, and ultimately boost your bottom line. So let's dive in and discover the perfect payment solutions tailored to meet your specific needs and catapult your business into success!
Best Payment Options For Businesses
Here are some of the best payment options for businesses.
Digital Wallets
Digital wallets like Apple Pay, Google Pay and PayPal give consumers a secure way to store their sensitive financial information like bank account numbers and credit card numbers on devices. 'Aside from this, these payment systems can also store other information like their names and address which makes them a convenient option for buyers when paying.
There are 2 main benefits for digital wallets. First, it allows consumers to pay their bills using their credit card or bank using their smartphones or computers. Second, it makes the payment process seamless and easier because all it needs is just 1 click to complete.
Digital wallets reduce friction during the payment process for consumers. According to a Baymard Institute study, 26% of respondents said that a long checkout process was one of the main reasons they abandoned their cart.
So which digital wallet is best? Paypal still leads the way as the 60% conversion rate in the western world. However, in China, Alipay and WeChat are the leaders with over 1 billion users, more than other digital wallets combined.
Buy-now Pay-later (BNPL)
Buy products immediately with Buy-now Pay-later (BNPL) schemes. Afterpay and zipPay offer this kind of payment structure where consumers buy a product and then pay by installment plans. According to Inside Australian Online Shopping report by Australia Post, BNPL services accounted for up to 7.7% of online spend or $1.6 billion and have a big appeal on the 18—39-year-old demographic.
Buyers like BNPL because it provides instant gratification which lowers barriers to entry. It also has a big impact on buying rate and behavior which increases conversion. An ASIC study found that 55% of customers spend more when given the BNPL option.
Cryptocurrency
Bitcoin and Litecoin are a form of electronic currency verified using a technology called Blockchain. While many of us feel uncertain using crypto due to uncertainties it raises, the fact is that there is an increasing number of shoppers who prefer this form of payment. CNN reveals in one of their studies that crypto users use will grow to 200 million by 2024.
Ecommerce platforms like Woocommerce, Shopify and Magento all offer crypto payment options. Just like other currencies, crypto can be received and withdrawn in real-time.
Payment Gateways
Payment gateways are ecommerce services that process payments. Here are some of the most popular options.
Stripe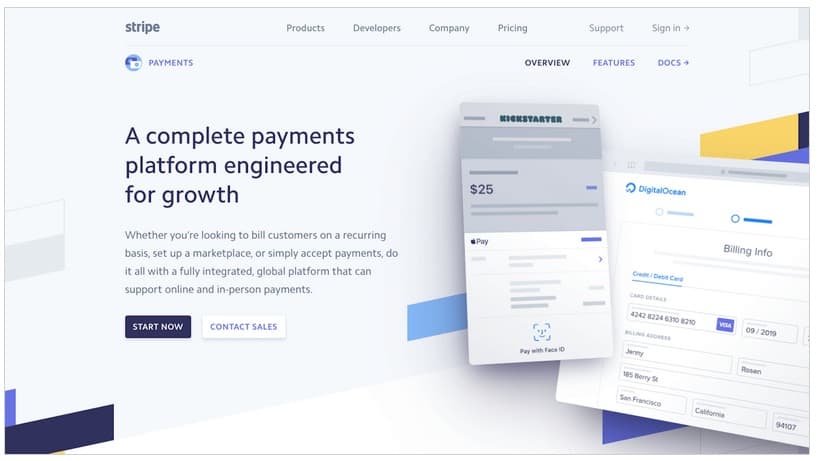 Stripe offers payment processing software for ecommerce stores and applications. It works by transferring money from your customer's bank to yours using a credit or debit card. As of 2019, Stripe accepts Alipay, Apple Pay, Credit cards, Google Pay, Microsoft Pay, Masterpass, Visa Checkout, and WeChat Pay.
eWay
Australia's eWay process 25% of Australia's online market. They are accessible to local Australian businesses with 24/7 support, over 250 integrations and over 20 years experience. They accept payment forms like AMEX Express Checkout, Apple Pay, Credit cards, MasterPass, Visa Checkout, and PayPal.
Braintree
Braintree started in Chicago but is now owned by Paypal. They offer a unique access to funding and data other payment gateways focusing on innovative payments technology and scalable solutions. They accept Credit cards, Apple Pay, Google Pay, Samsung Pay, PayPal, Masterpass and Visa Checkout.
BitPay
BitPay brings Bitcoin payments to the mainstream. It can process cryptocurrency in real time and deposit funds into merchant's accounts, without the need for a cryto wallet. They work with Bitcoin & Bitcoin Cash, Ethereum with more cryptocurrencies to be added.
Bottom Line
There are so many options available for ecommerce stores it can be hard to choose between all of them. However, your customer's preferences should always come first. There are many ways to find this out. You can ask them to take a short survey or take a look at your Google's analytics. For example, if you're receiving a lot of traffic from iPhones then offering Apple Pay should be a priority.