Did you know that Joomla is WordPress' biggest rival in terms of blogging?
While it's not easy to create a blog using Joomla due to some limitations such as not being able to set up an author box or social sharing, there are still those love to use this CMS because their blog extensions.
Joomla blogging tools are core solutions that can help you create an amazing blog like WordPress. There are many Joomla themes available in the market so all you need are blog extensions to help you create a compelling blog.
Best Joomla Blog Extensions
Here are some of the best Joomla blogging tools.
K2 – Free Joomla blog Extensions
This is the most popular blogging tool developed by Joomla Works. K2 was developed as a replacement for Joomla articles which brings some of the best parts of Drupal and WordPress to Joomla.
The best feature of K2 is its ability to let you import all your Joomla articles into K2 and make your content more prosperous with the addition of other fields like images, videos, podcasts, image galleries, other audio files and attachments.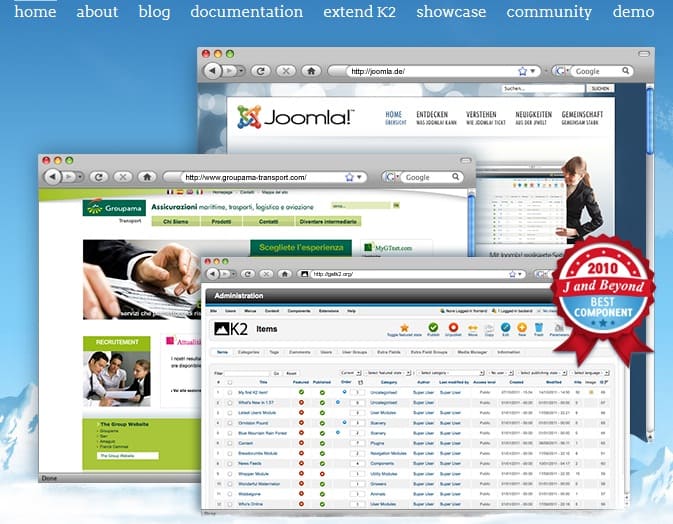 Other key features include:
Easy for everyone to use even for non-techies.
Create and design different templates depending on your requirements and assign them to different categories.
Easily create multiple authors.
Can create custom fields and content types depending on your requirements.
EasyBlog – A Premium Joomla Blog Solution
This is another popular Joomla extension. EasyBlog is a premium extension with unique out of the box features. Users like EasyBlog because it keeps post editing history so you can restore to the previous version any time. It also has drop and drag content modules that can be inserted in your post to make it more attractive.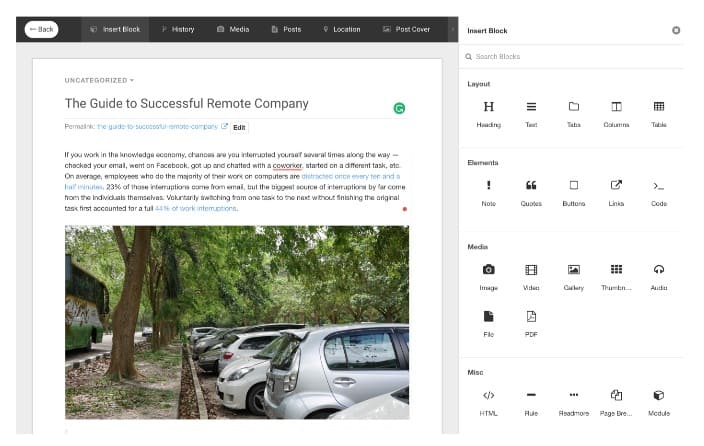 Users can enjoy:
Embedding post on social media like Facebook, Instagram, Twitter, Sound Cloud, Spotify, YouTube and other platforms.
Add captions to each of the images that catch your audience's attention.
Pinpoint location on Google Maps.
Has a well-managed media manager where you can manage videos, images, videos, files and other content.
Fully responsive with lots of templates.
ZOO – A Powerful Blog Extension for Joomla
ZOO is not only a powerful blogging extension. It is also a flexible Joomla catalog system that can enable you to create content types with custom fields. It features 8 different catalog apps that can help you crate catalogs right away.
It has everything you need to start a blog like custom post types, item manager, media manger, template manager, element library, comment & tag system, front-end submission and editing and importers.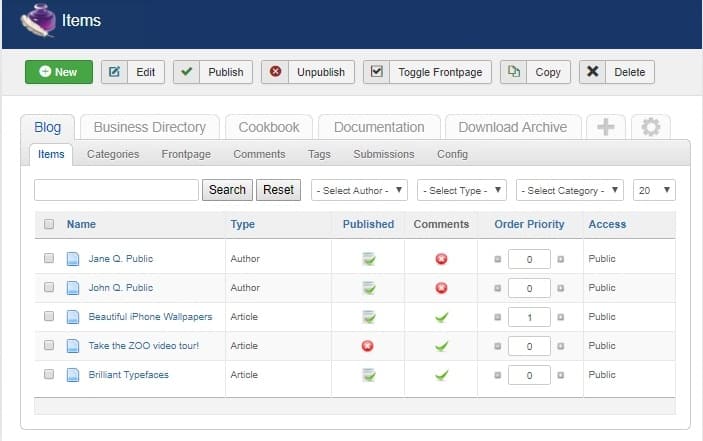 ZOO lets you:
Create documentation site, cookbook, product catalog, movie database, business directory and many more with ZOO.
Automatically generate slugs.
Blacklist comments with the IP and more.
Automatic image sizing and caching.
Choose lots of templates.
Show related post with dominant related items element.
Configure email and receive comment notification direct to your inbox.
RSBlog – Premium Joomla Blog Extension
RSBlog is known for its remote publishing feature that lets you publish content by sending an email. It is a premium extension developed by RSJoomla team. Its fantastic out of the box features can give you an amazing blogging experience and feel in Joomla.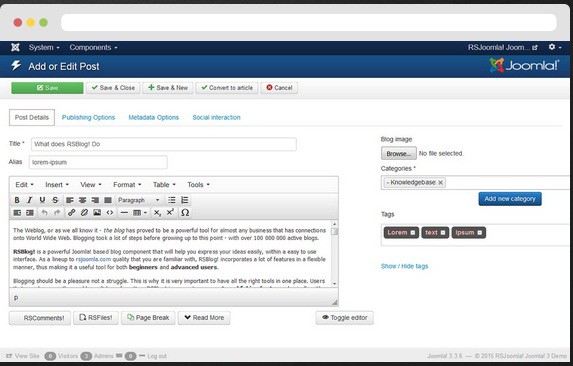 Key features include:
Allows users to submit to your blog.
Integrate Facebook and Twitter. When you publish your blog it will automatically be shared to these social platforms.
Clean and neat dashboard that lets you operate and manage efficiently.
Get RSComments plugin for free. It allows audience to comment on your content.
Create multiple author blogs easily.
Publish content from the frontend.
Timeline layout.
CJBlog – Free Social Blogging Component
It's not only a free blogging tool, it's also a complete social blogging solution. Instead of writing separate content from scratch, CJBlog merely uses Joomla articles to the social blogging platform. The extension stores articles in as standard Joomla articles. This means that if you decide to discontinue use, you can just uninstall it and your article will remain as it was.

Key features include:
Advanced tag system allows you to tag your articles and search.
Reward your users with points to encourage them.
Add the star rating to your existing Joomla articles.
Users can add articles to favorites for later viewing.
What blogging extensions are you currently using? Do you have experience with any of the above mentioned extensions? Tell us by leaving your comments below.