Online marketers are constantly faced with multiple responsibilities. They need to be on top of social media marketing, customer experience and advertising to name a few. Luckily for marketers like you there are a lot of tools available to help you succeed and stay productive.
There are tools for content creation, discovery, scheduling, publishing, analytics and many more. For this post we will explore some of the best social media tools top brands are using today.
BuzzSumo
If you want to find the most shared content and trending influencers, BuzzSumo is the tool for you. You can use it to analyze which content performs best on any topic and all you need to get started is to search for a topic and domain.
You can use this tool to get a better understanding of your impact on social media and develop smarter strategies based on which of your content is getting the most engagement. BuzzSumo breaks down the result by Facebook, Twitter, Pinterest and Reddit shares.
Plans start at around $79 monthly.
Google Trends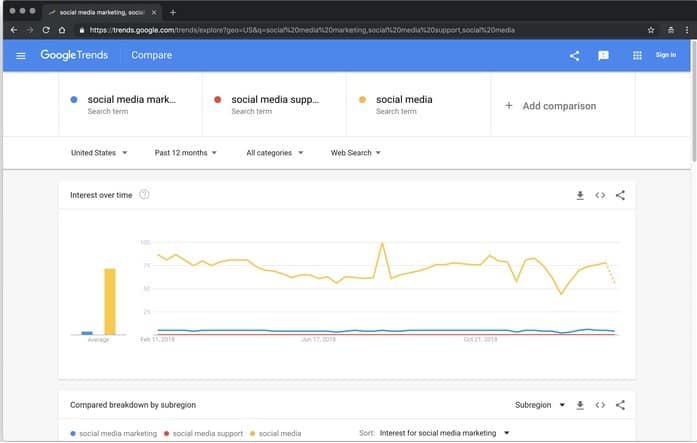 Google Trends is a free tool that can help anybody search for trending topics online. Top brands use it to monitor notable things happening in the world. Professionals use it to gather and share information that's related to what's popular as of the moment.
Google Trends can also be used to monitor keywords to see if they are trending and how the results compare to previous months or years. You can then use this information in the content of your social media strategy.
Canva
Many social managers need to know how to create beautiful images without a designer. Canva is an amazing tool marketers can use to create amazing looking social media images quickly. There are ready-made templates, icons and illustrations to make your images look professional without having to do much design work.
Canva features a drag-and-drop interface and over 2 million graphic elements in their library. Canva is free and Canva for Work is $12.95/month.
Animoto
Animoto is the go-to for creating amazing marketing videos.
Animoto turns video clips and photos into professional content in just a few minutes. Many users describe it as "fast" and "amazingly simple to use". Creating stunning video is something many marketers struggle with and this tool can help bridge the gap between the struggle and engaging content.
This tool is free to use and the paid version starts at approximately $5 per month.
Feedly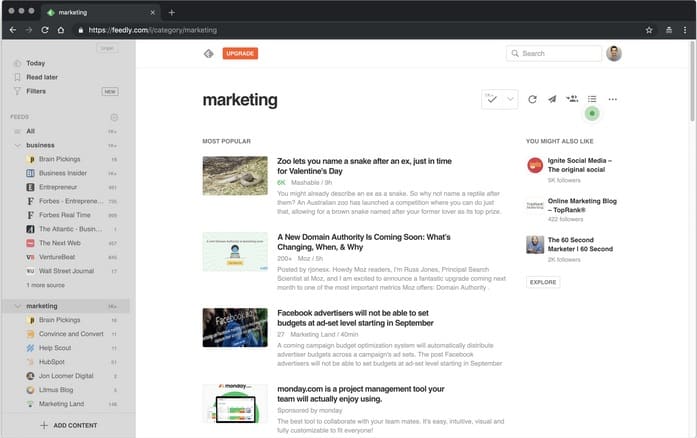 Feedly has so many uses. Say you want to work with influencers who want to follow their blog or find industry news or any other reasons you need to visit other websites. Instead of doing everything manually you can add their RSS feeds to Feedly and see them there.
It lets you save lots of time and it's also great for content creation. You can see the content, writer and publisher of content that you like in one feed and see them in one glimpse.
Feedly starts at around $5.41 a month.
Analytics
Native analytics for each platform is very important. Best of all, they are completely free.
Facebook Analytics
There is a lot of information just under the insights tab for Facebook Analytics. Everything you want to know about your engagement, number of likes and followers, how your post is doing and details like Facebook page to watch are all vital for marketers.
Instagram Analytics
Instagram Insights can let you see activity around how frequently users interact with your post, how your post are performing over time, find out where your audience is from, age, gender and when they are online.
Twitter Analytics
Twitter Analytics is a goldmine of information about your audience, how well you're engaging followers and your top performing content.
Just go to analytics.twitter.com to login and learn about your audience and their likes.
Todoist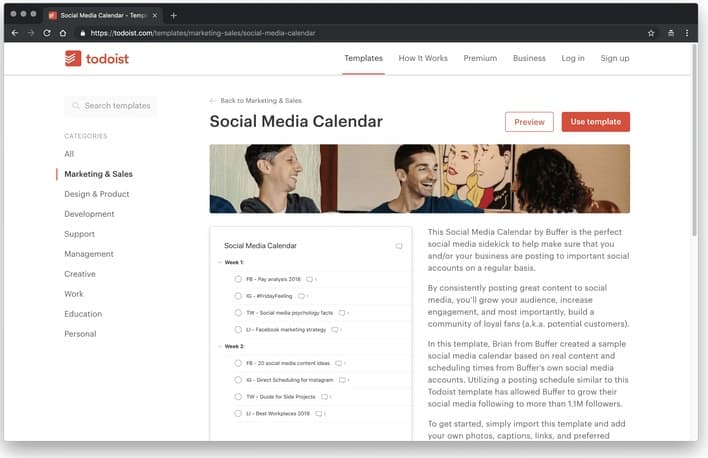 Managing multiple social media accounts can be very difficult especially when it comes to scheduling content and making sure that your account is updated regularly. Todoist is an amazing social media productivity tool.
You can use it to make sure that your brand and business are posting on important social accounts on a regular basis. This is important because by posting content regularly you will be able to grow audience, increase engagement and build a community online.
Todoist is free with plans starting at around $3/month.
Managing multiple social media accounts can be challenging. However having the right tools and a well thought strategy can make things easier and get you one step closer to success.