During the early days of SEO, web directories were the bomb. In the early days Google algorithm was easy to play so if your site was listed on a ton of web directories, your chances of ranking high was guaranteed.
The number of directory links you had influenced how well your site ranked on Google. However, online marketers caught on and littered Google with links to their own site.
Today, Google's algorithm is more sophisticated. While links are still one of the best signals, Google does not view all links equally. Links from directory listings are now less valuable compared to contextual links coming from a high-authority site in your niche.
But this does not mean to say that web directories are worthless. According to MOZ research, web directories and local citations still have a small ranking factor especially for businesses. In fact, Google's John Mueller has said that directory links "generally" don't help with SEO.
Therefore, marketers should move beyond seeing directories as a source of links. They should instead view directories as a source of traffic and trust.
If you're a business looking to boost sales and traffic don't just put your listings on the first web directory you see. Consider these listings before signing up:
Is this site reputable? Ask yourself if a customer sees your business on this site, will they view my business as legitimate?
Is my target audience likely to come to this website? If the answer is no, it's probably not worth listing your business.
Here are some web directories that are still relevant in 2019.
To remain relevant many online directories transitioned into review sites. This is a list of web directories with real traffic that can translate to real value for your website.
Best of the Web
Best of the Web (or BOTW for short) has been around since 1994 and is still a trusted online directory for 16 million businesses. A lifetime listing (with a followed link) costs $299.
AboutUs

AboutUs was originally a business domain directory but transitioned to allowing all kinds of websites to be submitted.
Spoke.com
If you want to find or discuss business people, companies, news and other business related stuff, you can do that in Spoke.com. The site allows you to add a web listing for a business or a person.
For Blogs Only
Blogarama
Blogarama is one of the web's oldest blog directories. It features over 143,000 blog listings that are being actively updated by admins. The site has over 230,000 visitors monthly and offers premium and business packages.
For Local Business
Google My Business
You can say that Google My Business is the grandfather of web directories. Many SEO professionals are familiar with the benefits of submitting your site to this directory. Google My Business continues to be relevant in terms of local SEO and it's also worth mentioning that Google is the world's largest search engine. Therefore listing your business on this directory is not just a good idea but also good marketing sense.
Bing Places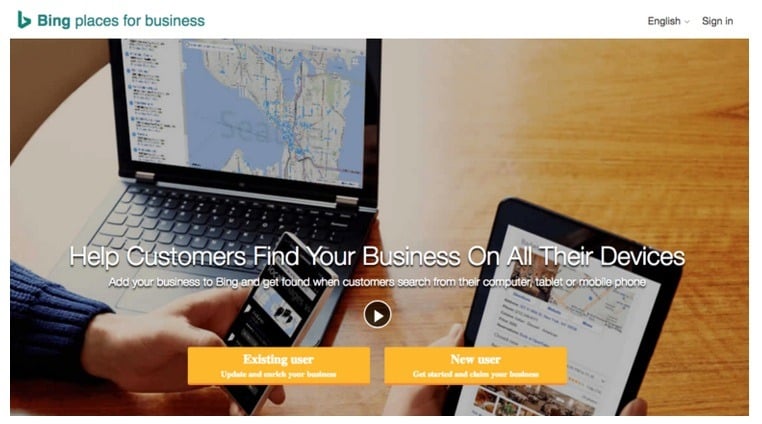 Bing Places is Google My Business Equivalent in the world's second most popular search engine. Even though only 4% of the world uses Bing for searches, it is important to note that this is the default search engine for Internet Explorer and Edge and Microsoft still dominates the world's desktop market.
Yahoo
Yep, Yahoo is still relevant and is the 3rd most popular search engine. Adding your business to Yahoo Local (and 6 other daughter directories) cost $8.25 a month.
Yelp
Yelp is still the place to go for online reviews for local businesses. If you want your customers to find you, you have to be on Yelp and get positive reviews.
Foursquare
Foursquare is not as popular as Yelp but it provides listings for all types of businesses.
Yellow Pages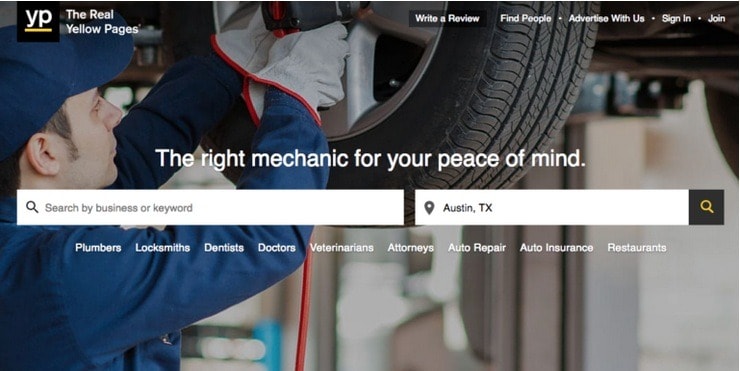 The company that used to print huge yellow books has gone online. Claiming your business is free although you will be pestered into signing up for their advertising options.
YP is still relevant because it provides listing to all types of industries, offers coupons and regularly posts blog content to drive internal link equity back to their directory pages. The site also converts. When people go to Yellow Pages, they're looking for contact information. 60 million people go to YP.com every month and 91% make contact within 24 hours.
Chamber of Commerce
ChamberOfCommerce.com is the online version of your local Chamber of Commerce. It boasts a robust listing of small business online and also serves as a small business owner resource center.
Merchant Circle
Merchant Circle's mission is simple: "find the best local merchants."
You can find all kinds of businesses, merchants, industries, contractors and professionals on Merchant Circle. It has a listing of around 2 million and gets approximately 340,000 monthly visits.
Better Business Bureau
The BBB remains a major trust signal to consumers. If your business has a BBB accreditation, customers can visit the site to verify you're a business they can trust.