Did you know that Instagram has 500 million active users daily and over 4.2 billion posts every day?
Instagram is a great tool for creating buzz for your products online. If you want to convert browsers into shoppers, Instagram can help grow sales for your business.
Tips To Boost eCommerce Sales With Instagram
Here are some tips on how you can leverage Instagram to take your business to the next level.
Switch From Personal To A Business Account
Switching from personal to a business account is the first step to using Instagram as a marketing tool. The business version offers a professional-looking profile that allows you to put your contact information from Facebook while retaining Instagram's shoppable links. It can also tell you the number of impressions and clicks from your post on a daily basis.
Use Selling Tools For Instagram
Creating a Clickable Storefront
As a brand selling becomes easier by using selling tools that convert the link into a clickable storefront that showcases your products. Tools like Yotpo help you connect multiple products with a single image.
You can also sell in Instagram using hashtags. One way to do this is through Inselly. This is similar to the method above but uses the #Inselly hashtag, an added feature in the software. It works by marking products as sellable items so that buyers can find and buy them through Instagram's platform.
Use Visually Appealing Photos
Sellers have to use visually appealing photos to engage customers. Popular brands like Nike showcase their products using high quality focused images.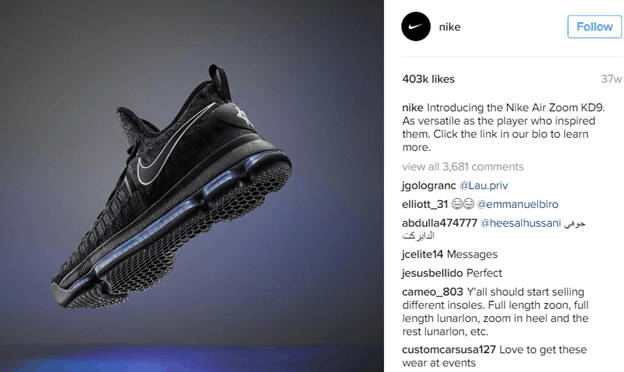 Instagram recommends photo size of 1080 x 1080 pixels with with 2,200 characters for caption.
Post User-Generated Content
Encourage users to post content using your products. Ask them to share photos of them using products from your store then ask permission from them if you can post using your account. This will make others inspired and purchase from you. This type of referral marketing can have a positive effect on your site. Many fashion brands are implementing this strategy for their products.
Use Hashtag Research To Increase Reach
Just posting images is not enough on Instagram especially when it comes to marketing. Every image needs to be supported with relevant hashtags and using hashtags helps Instagram catalogue images and products. Using the right hashtags will make it easier for the right people to find you. On the other hand, using the wrong ones can have a negative impact on your strategy.
Hashtags also make it easier for people to find your profile on other social platforms. If your content gets published in Facebook, your hashtags get shared there too. This improves chances of your content being found by users who are using Facebook's Graph Search.
Ask Influencers To Review Your Product
Influencer marketing is a good way to boost online sales. It basically word of mouth strategy and collaborating with an influencer or blogger. Many followers take them seriously and rely on their product reviews helping brands improve conversion and boost revenue.
Ask Influencer To Share Promo Codes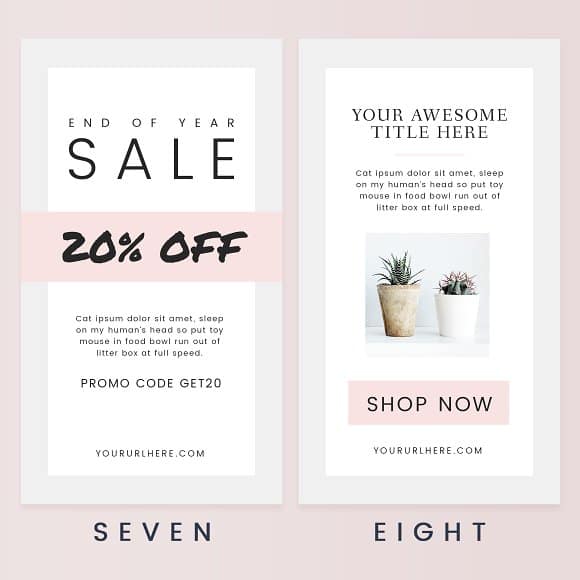 After you have found the right influencer for your product, you can also ask them to share promo codes for your products in their posts. This will help increase engagement of their audience which in turn helps to maximize your sales by bringing in targeted customers.
Use Instagram Advertising
Instagram advertising is a great tool for marketers. It can improve the conversion rate of your site by taking your brand to the next level.
Instagram ensures that your ad gets noticed and brings the most engaged audience. According to a study conducted by Forrester, Instagram users are 58 times more likely to engage on Instagram's branded content compared to Facebook.
Ad recall from Instagram is also 2.8 times higher compared to other sites and the average duration of visits to Instagram is 192 seconds, longer than other channels like Twitter, Pinterest and Facebook.
Run A Contest
Contests are a good way to boost conversion by offering discount coupons to your followers. Not only does it help increase number of your followers, it also improves engagement on Instagram. Support contest not only with visual content but with text too.
Implementing these techniques can contribute to the growth of your business. It can make your marketing strategy more impactful, help you gain more followers, improve your reach and generate more sales for your business.
A Sydney Social Marketing Specialist can help you achieve marketing goals with an effective social marketing campaign strategy.