SEO Linkbuilding: How To Give Your Local SERPS A Boost With Local Press
Over the past couple of years quite a few of my clients have been local businesses requiring improved local search results across a number of keywords. From working on these websites I discovered quite quickly that getting a link from the local press really helps give your local ranks a boost. For this post I'm going to assume that other local ranking factors including reviews, consistency with contact details etc have already been addressed. This post will focus on the benefits of local press and discuss a few ideas to help you gain that all important link.

The last six months have seen huge changes in local search. If you want to brush up on all things local then I'd highly recommend you check out David Mihm's post on local search ranking factors.

One of the biggest factors in ranking for localised terms is gaining links from local websites. Most towns will have community websites and local directories where you should be able get some decent links. In addition to this most towns will have a local paper and usually an online issue to compliment the print edition. The chances are that your local news website is probably one of the most authoritative and well viewed websites in your geographical area. Therefore, when trying to rank for local terms it makes a lot of sense to try your hardest to get a link from them.

Step 1: Read The Website

Visiting your local news site and reading their content is a vital step towards getting some press coverage for your website. It's important that when you start to write your press release or make contact, you have some understanding of how they write and what sort of stories they cover. Some industries are going to be harder than others. If you're lucky enough to be in the arts or have a community based project, getting some local press coverage should be a relatively easy task. However, as soon as you mention more commercially driven sectors such as property or the automotive industry, getting free editorial is going to be a little bit harder and probably require a bit of creative thinking!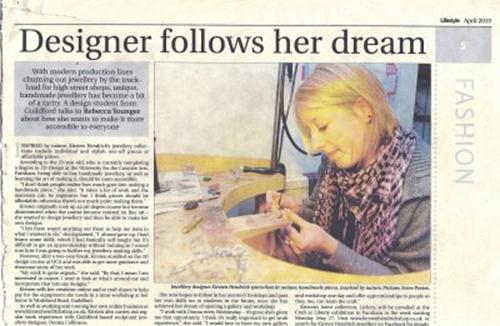 A great piece both online and off…easily achieved with a simple press release and phone call.

Let's now assume that you're struggling to get any editorial without getting passed straight onto the advertising team. If this is the case your news release is not being taken as 'news'; it's being perceived as an advert. So what do you do? Fortunately there are a few avenues that you could go down in order to get that piece of press you need, and of course that all important juicy local link!

Charity

Local press love charity work and are usually quite willing to promote local events and stories if they are raising money for a good cause. If you're struggling to get any editorial then why not try to think about what you could do for a local charity. This could be anything from raising money for a particular project, or helping to sponsor an event. I'm not saying you should only get involved with charity work to get some free publicity; but surely this is a genuine win win situation? You get a link and some good local PR, and the charity benefits from your support in addition to some free publicity.

Community Projects

This is on a similar note to the paragraph above. Most towns or cities will have numerous community projects set up to support people in need. These could involve anything from building new local facilities to delivering meals to elderly people. As with charities, most projects would be really grateful for the support a local business could offer, so why not do something and get involved? Coming back to the point in question, if you're helping the local community then you have the opportunity to share some genuine 'news'.

Try not to construct your press release to just shout about all the good work you've done and how amazingly kind you are as a company. Try to write a piece about the project in question, and how it's helping improve the community. Of course, mention the part you've played but try not to make it all about you. This way it's much more likely to get published, and you won't end up looking big headed.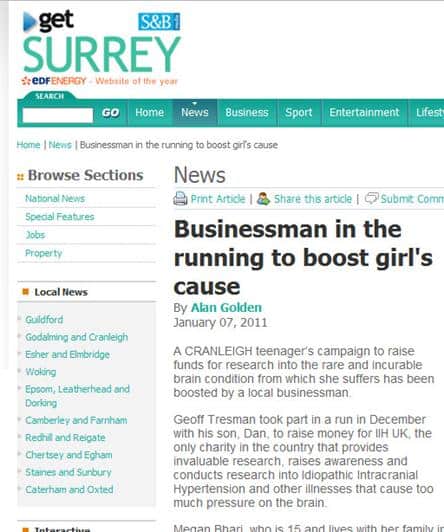 A Good Example of how business can get involved with charity/community work (Get Surrey)

Sponsor A Local Event

If there's a new event being planned in your town, try to get involved as a sponsor. Not only will this give your brand a nice boost at the event itself; as part of the sponsorship deal you should be included in any related press releases. Depending on the size of the event in question, this should lead to at least a bit of local press coverage and a link from the event's website (bonus!).

Sponsoring an event doesn't have to be an expensive affair, if there's nothing around then why not try and organise something simple such as a meet-up evening for likeminded businesses? Again, like everything else mentioned here your brand should receive a good amount of exposure in addition to getting the tasty link you wanted in the first place.

Making Contact

Once you're confident that you have some real news that's likely to get published then it's time to get in touch. Local journalists should be relatively easy to get hold of as most papers usually publish their contact details either on the website, or in the print version. Going back to the very first point, when you're doing your initial research it's worth making a note of some journalist's names that seem to be writing similar stories to the one you want published.

I tend to start by making a quick phone call to enquire as to who the best person to contact is. More than anything it's a good first bit of contact and it means I'm not sending emails that will never get read by the right person. If your story is of interest then you should get a response. It's worth explaining right from the start that you'd really appreciate the story being covered online, not all papers syndicate their print editorial with the online version so it helps to save any later confusion!

Hopefully this post has given you a few ideas about how you can use local press to boost your results in the local SERPS. I've seen really positive effects whenever I've gained a link from the local press, so in my view it's well worth the effort involved. Please feel free to leave any questions in the comments, or send me a tweet @jonquinton1

About me: I co-own a website called The Jewellery Boutique and take care of all sorts of things from SEO right through to buying in stock.