10 Benefits of Web Design with Magento Commerce
---
Are you dazed by all competing plethora of web design platforms coming up on the internet these days?  Choosing the right software for the kind of online business you plan for is downright crucial.  You can save yourself from further headache go ahead and try Magento.  Magento web design platform offers exemplary ecommerce web design solution packed with so much punching power and versatility that allows users to gain maximum leverage to their e-businesses regardless of size.
Here are 10 benefits of web design with Magento commerce that you'll love to discover.
1.    Low cost and open source web design platform
 Magento web design is open source, meaning it is FREE!  Magento web design also increases the conversion rate and ROI of the business online because of the low cost of deployment whilst serving an extensive and robust operation.
2.    Transparency of Magento web design
 Magento operates transparently.  The source code is disclosed to encourage public participation to modify, fix, and improve (i.e. adding new features) the software.  The public can study the codes and decipher the inner workings of the software in order to further improve its capability for ecommerce web design solution.  This explains why Magento web design evolved so fast – because of the large community of contributors studying the codes.
 3.    Enterprise grade ecommerce web design solution
 Another benefit of Magento web design is the fact that it can compete with people.  If the business that started out as a small community will eventually move up and expand to a global business enterprise, Magento can evolve with it.
 4.    Scalable platform
 Magento is a scalable system for ecommerce web design solution.  If you start as a small business, Magento can cater your small requirements.  If you enter as an enterprise with sophisticated and complex requirements, again Magento can serve your intricate needs.  You can also use Magento Professional and Magento mobile as well.  Scalability also allows third-party systems to lock into Magento such as the plugins and extensions that are ready to tie-in with the platform's open interface.
 5.    Best practice for ecommerce web design solution
 You can see Magento web design almost everywhere being practiced.  It is constantly evolving and improving.  New version of Magento web design is released almost every two months.  It's moving way ahead any other ecommerce platform out there in the market as an evidence of its ever-growing popularity.  The user-friendly nature of Magento in providing ecommerce web design solution has won the preference of many store owners worldwide.  Visitors just keep coming back to Magento driven sites because they find the experience quiet invigorating.
 6.    A strong active global community
 Probably one of the biggest benefits that any business could get out of Magento web design is its very large community of users for ecommerce web design solution.  If you have a strong active global community of users to back you up and support you, then you can breathe a sigh of relief because your business investment is safe.  The software's continuously flourishing community of developers maintain a huge active online forum discussing problems and keep providing solutions to be shared over the net.  New features are added every now and then through open source extension programs.
 7.    Complete ecommerce features of Magento web design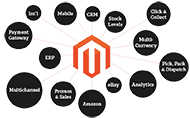 Magento's standard version is packed with a bundle of nice features to run a good ecommerce store.  Standard features include: shopping cart (customer service, customer accounts, catalog management, and catalog browsing), site management, international support, checkout, mobile commerce, payments, product browsing, SEO, marketing promotions and tools, shipping, order management, and analytics and reporting.  Advance analytics and reporting features offer knowledge of the most current sales trends online.  The SEO capability of Magento web design software allows your site to rank high in the SERPs of famous search engines like Google and Yahoo.  Magento's shopping cart has superior backend controls that operate seamlessly making it an excellent choice for ecommerce web design solution.  Tons of plugins are also available to boost the functionality of existing features.  For online stores running Magento ecommerce web design solution, the strength of online business transactions is increased remarkably.
 8.    Flexibility and conversion of Magento web design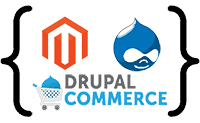 Versatility is Magento's game plan.  It allows users to change features for ecommerce web design solution and give plenty of room for more future expansions.  This highly flexible web design software opens a new perspective in running ecommerce.  Drupal has worked to offer interface with Magento through extension programs.  This leads to Magento's integration into Drupal to allow support for conversion.  Tools for importing products, customers, and orders from other carts like OSCommerce and X-Cart are outright ready when converting from another platform.  The creator of Magento web design has laid its foundation so well that it allows easy upgrading of websites.
 9.    Stable Architecture
 The underlying structural design of Magento is exceptionally good.  Magento web design platform is very stable and therefore very reliable.
 10.  Customizable ecommerce web design solution
 Magento web design platform can be custom-tailored to conform to one's own business objectives.  Through extensions, the customized ecommerce web design solution is realized.  The three types of extensions for magento are interface, modules, and themes.  You can practically choose from among thousands of available extensions online to boost the functionality of your ecommerce site while maintaining optimum standards.
You don't want to trail behind your competitors.  You owe it to your business to fully exploit the benefits of an amazing technology.  GO to Magento website and DOWNLOAD your FREE standard version and start building your own Magento-driven site right away.