Ecommerce Development and Marketing, a Case Study
The Client: Bulbeck Envirosolutions, a part of the Bulbeck group of companies. Bulbeck envorosolutions are a well known provider of environmental protection products to industry. Their oil spill protection equipment was used in the cleanup of the recent US oil spill.
The Brief: To update the website to provide an up to date catalog of products and allow quotation requests from the site. Marketing was to follow up the site re-design to boost traffic and inquiries from the site.
">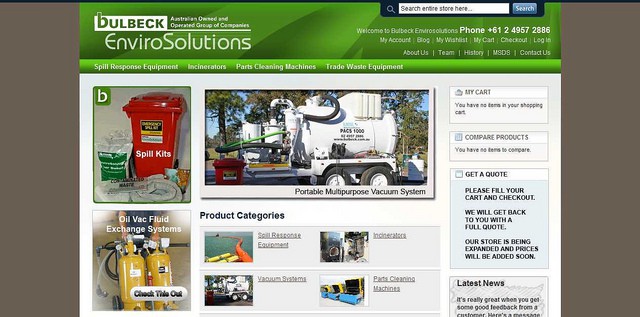 Marketing Results:
• Total refresh of the company website, creating a new online presence.
• Largest sales ever produced after the site was launched.
• Best 2 months of sales for the company produced through the website via online marketing.
• Multiple top listings in Google search results.
• Site traffic increased to be consistently over 1000 unique visitors per month.
• Inquiries from new unexplored territories and markets for sales.
Client Testimonial
"Just a quick note to thank for you for your work on our website and on-line marketing activities over the last 18 months. Our website needed updating so it would work better for our business. Creative provided solutions to not only produce a great website that matched out needs but also took care of all the marketing of the new site. This has led to increased sales which is a great result. Creative not only gave freely of their time, but also had the patience to explain the process as we went along. I would have no hesitation in recommending Creative to other companies for their web development and marketing needs." – Richard Tonkin, General Manager, Bulbeck EnviroSolutions Pty Ltd
The following services were provided:
• Graphic Design
• eCommerce solution, online catalogue with quotation shopping cart.
• Data migration from legacy system.
• Open source programming.
• Custom modification to allow quoting only feature.
• Full SEO site architecture to increase Google rankings.
• Ongoing Search Engine Marketing, SEO, SEM and Email marketing.
Site: www.bulbeckenvirosolutions.com.au