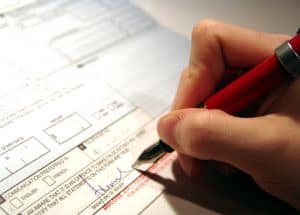 As soon as you've decided on a particular web designer, an arrangement for contract signing will follow. This is when your good judgment as a client is put to the test. You have to be perceptive enough to spot a good contract from a bad one. The earlier you notice questionable terms and conditions the better off you'd be as this would mean saving yourself from a lot of frustrations than if you had initially overlooked the flaws. Even worst of all is spending so much more than you had ever expected. This article will impart knowledge on some key elements you need to know before sealing the deal with your provider's web design contract.
Trying your best to comprehend why such bad web design contracts happen in the first place makes you discover certain maneuvers that some providers wield. You see, when the contract is being prepared by the provider, he has poured plenty of time analyzing how to persuade you. He can't afford to lose you by becoming discourage with too many detailed conditions stated in his contract. As a result, the contract terms may not be elaborately disclosed to you and it doesn't state specifically what's to be delivered and when. On the other hand, a desirable contract is fair and respectful of each party's end, giving careful consideration of each others' outlook to guarantee satisfaction of both for the entire operation.
To help you differentiate a good web design contract from a bad one, here are the key elements you need to know to keep yourself informed.
Details about deliverables

The final finished product turned over to you by your provider is what's called a "deliverable". Make sure this is very specific and detailed enough that both parties are able to grasp the scope and the elements involved. Make sure also that your assumptions and the provider's meet. Here's a sample of a specific deliverable: "A contact page with a form that sends the form data to an email address." Being the client, the burden is placed on your shoulder to decide what are the specifics of the deliverables. Should you decide, for instance, to save contact information to a CRM, spreadsheet, or other tools, your designer may charge an extra fee. Depending on the agreement with your design provider, a slight revision may be tolerated. But if you pile up small requests over time, your provider may opt to charge you for the overall work.

Design revision limit

Because websites respond to inputs from users (interactivity), this makes the whole project hard to mentally visualize what the actual outcome would be and how exactly each element would work. This is the reason why a mockup must be supplied in order to give clarity of the overall picture and whether or not revisions in the design is necessary. The usual changes affect color, font size, page width, order, etc. You have to clarify with your design provider how many revisions they can afford before they start charging you for extra work. A lack of information regarding revision limit will draw conflict as expectations over what is reasonable is put into question.

Condition on delays afforded by client

Delays in projects are sometimes inevitable. In order for work to proceed, it must get the inputs of others on a timely basis otherwise it will cause delays. An example of this is when the client is expected to hand over the website contents to the provider on a specific date or period of time, but instead misses on the agreed period for some reason. The web design contract must be specific on how delays like this could affect the target deadline of the entire project.

Ownership of website assets

Before you sign the web design contract clarify issues about copyright ownership of the website assets – whether you own it or the provider retains copyright ownership. Most providers will transfer copyright ownership to client for small website projects with no-big-deal features, but for projects requiring custom software development for many of its one-of-a-kind features, project contractors/providers will retain copyright ownership of the software and assets unless you explicitly bargain for it before signing the contract. Deal with this issue right away from the very beginning, otherwise it will cause huge problems when the contractor will re-use the same codes for others.

Conditions regarding requests for access to source files

In the course of the project you may be compelled to hire a third party contractor, say a graphics artist who will request for the original graphics source files (Photoshop or Illustrator files) to produce print ready images to help you with print marketing. For this reason you will need to request the original files from your contractor who might decide not to give away. This will now create problems with your third party arrangement. Clarify this issue before you sign the web design contract.

Website alterations made by the client (you) or some 3rd party

In case you or some third party provider you hire causes alterations or accidentally distorts the setup/format of the website design, for instance, adding promotional banner which results to the entire setup breaking up, you (being the client) will be accountable for an added cost to fix it or you may agree to have it included as part of the providers maintenance deal. This is one of the key elements you need to know before signing a web design contract.

Technical support and maintenance

One of the key elements you need to know before signing your provider's web design contract is "technical support and maintenance". Depending on the complexity of the website project (whether or not the website integrate some technical features) the contractor or developer may or may not charge a monthly maintenance and support fee. Some contractors do not charge you if bugs exist and originated during production process. But if an error exist and found to be caused by you, then the contractor will charge a fee for fixing the bug.

Payment terms

Different providers have different payment terms. Some follow the standard practice requiring an initial payment for a certain percentage to be followed later by payment percentage for every progress made. A good example is 30% upfront payment, then another 30% after a certain percentage of project completion. Finally, full payment of the remainder after the project is delivered. This is one of the most important key elements you need to know before you engage a web design contract.