Want to Share an Office with 60 Like-Minded Entrepreneurs?
For any tech startups out there looking for office space you might be interested in this message from Jack Delosa of The Entourage…
GradConnection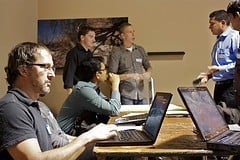 and The Entourage, with the help and backing of Peter Davison are expanding our Headquarters in Sydney CBD, in a move to develop and foster the tech entrepreneurial community.
We are looking for 20 early stage businesses, each with at least one full-time staff member (including the founder), to join the community which will include…
400 square meters, 30 companies, 60 desks, a boardroom, a games room, a bar fridge, maybe two, a foosball table, some couches, and NO equity splits, ongoing fees or anything of the like – simply a large space filled with high-growth tech start-ups.

We are not an incubator. We are not an institution
We are a marketplace for ideas, skills and support. We want to provide an environment of support and cooperation, between all the companies involved.
The project is a not-for-profit exercise which means rent is only $250 per desk, per month (includes everything). Any surplus funds at the end of each half will be re-invested back into the office space or into a party (probably both).
Some of the companies already involved include
GradConnection Australia's largest online job-board for Graduates (ahead of Career One and Seek)
The Entourage Australia's largest group of entrepreneurs under 35
99Dresses A wardrobe full of clothes and nothing to wear? 99Dresses provides an infinite wardrobe of free fashion, allowing ladies to exchange dresses online.
OrionVM A high growth Australian company providing Scalable Elastic Cloud Computing solutions.
The Name: FishBurners
One of the First Fleet of ships taking convicts to Australian shores was called "Fishburn". It was the biggest of the supply ships for the First Fleet. The Fishburn provided the necessary resources to startup the first community in Australia.
We see this project as a fleet of entrepreneurs on a voyage to a new land, all of us helping to foster a community of like-minded people moving toward a common objective.
The Application
The Application Period for FishBurners starts today and ends in a weeks time on Tuesday 15th February, 2011.
Your answers to the application will give us an indication as to whether we believe you and your business will be a great fit.
At this stage, we will be moving in to the new office on April 1, 2011 and it is located within a 5 minute walk of Central Station.