Is There Really Such a Thing As Mobile SEO?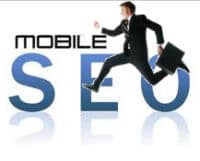 Yes, Virginia, there is mobile SEO.
What is so crucial about mobile SEO? The supreme answer is that people today need to find and access essential information, in an almost instantaneous process, on a device that has far less "real estate" and bandwidth than a computer. The less real estate of the mobile device however has not been a dampening factor for searches. Think about the "old days" when your friends would challenge you to remember what year a famous movie can out or who was in it. You could sit around debating for an hour, now all you have to do is create a simple search and within seconds the real answer is known.
The psyche of modern people demands a minimalist approach for Internet searches during nonworking hours. Hence, the smaller the device is the better. Mobile searches are growing, particularly on weekends and late at night during weekdays. The goal of mobile SEO is the same as traditional SEO: make the user experience for your site better than competing sites while keeping conversion optimization in mind. The difference between mobile SEO and traditional SEO is that the less real estate and bandwidth are accounted for during design.
What is the technical reason for adhering to mobile SEO principles?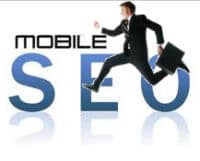 The number one search engine is Google, which garners 85% of all searches. If Googlebot cannot crawl your site, then it will not be included in Google's search index. To be sure your site is included in Google's mobile search, create and submit a Mobile Sitemap. Allow any User-agent including "Googlebot-Mobile", to access the site. Do not check to see if User-Agent matches exactly "Googlebot-Mobile". Check to see if the User-agent header contains the string "Googlebot-Mobile." Google affirms that "Pages we determine aren't viewable on a mobile phone won't be included in our mobile site index," so make sure your DTD declaration is in XHTML Mobile or Compact HTML (3). If there are two versions of a URL, one for the desktop and one mobile version, make sure the content of the mobile and desktop URL match closely. If it does not, then Google may believe your site is cloaking and you could be dropped from the search results.
In the future, one additional Mobile SEO concept to include in your mobile website design is location. Many future searches will focus on GPS location, particularly during nonworking hours searches. Mobile algorithms are in their infancy and so it will be necessary for SEO professionals to examine their Mobile SEO strategies frequently. Mobile SEO and traditional SEO strategies will compete for design time, but, "alas, how dreary would the world be," if there was no mobile SEO!
Olivia Williams is an Internet marketing blogger and enjoys staying up-to-date on the latest SEO trends and techniques. She also is a contributing writer for Invesp, a site which helps people improve their landing page design while improving overall conversion optimization.