Breaking the Rules of Web Design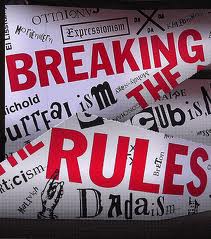 #creative web design is not out of your reach. Even if you don't consider yourself any kind of expert on matters related to web design, if you've always had the interest, but have just never gotten around to realizing this interest by creating something, odds are you've probably picked up a thing or two just from being around the internet for so many years. It's really just a whole lot of common sense.
So, you can look at it in this way. You have the interest, you have the time, you have at least a foundation of the things a person needs to know to try their hand at creative web design, and you have the desire to learn more and do more.
All of this is good to have in your pocket, so to speak, so what's stopping you? Perhaps you feel like there's just too much to it to really do whatever it is you want to do. You might be stopping yourself by thinking that there are just too many burdensome rules with web design to do anything that would even come close to matching your aspirations.
These thoughts should be put to rest right now. Yes, there are rules, but as we've all heard in the past rules were made to be broken. That doesn't mean you can do whatever you want. It just means that if you have a creative mind, if you know the main rules, and if you're capable of thinking outside the box you'll be able to take some of the rules of web design that are on the table, flip them around and create something that suits your personality and interests.
But before you can do that, you need to keep certain rules in mind. If you don't know these rules, then it's probably good to at least be introduced to them. If you do know these rules, then it never hurts to brush up, right?
Five Key Rules
Navigation should be in a familiar place:   Give the people who visit your site a little bit of credit. Most people who use the internet now don't need everything to be in a certain place. As long as your site is designed with some respect to a certain order of things, the website navigation doesn't need to be in a familiar place.
Don't place your content too low:    Some might tell you not to put the content of your site too far down the page, that people will not think to scroll that far down to find it. That's just ridiculous. People know by now to scroll all the way down to see everything your site will have to offer them.
Everything in three clicks or yes:    This isn't a terrible rule to follow, but you can still have some fun with it. Give your visitors a chance to do a little exploring. You can make that aspect so interesting that people will enjoy it as much as the actual content.
Limit the size of your files:    The prevailing logic with this is that pages will load faster if you do this. That's certainly fair, but don't let that disqualify you from using a really great image or video to drive your point home. Don't go nuts, but don't let this rule hold you back either. Use your judgment.
No horizontal scrolling:   It might take a visitor a moment to get used to it, but having them scroll horizontally can actually be a lot of fun.
"Play with the rules, and don't be afraid to enjoy some creative web design."
Guest Author Bio:
Mary Rogers has over 5 years of experience as a website designer and content writer for many website design and Online Marketing communities. Her capabilities include small business website design, information site architecture development, web flow diagrams and user interface design. Apart from having in-depth knowledge in website design her passion is to share what she knows about website design, small business web design and web development. She is an avid blogger and writes regularly for Robotforce.com