6 Crafty Strategies To Get Your Visitors More Engaged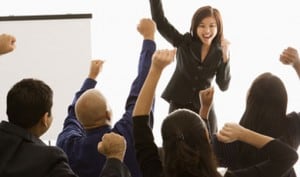 Do you know what makes me most happy? It's an email by someone who tells me how much they like an article or software I've written and published on some of my sites. Oh, well, profits make me happy too. And somehow they are "magically" connected to the number of users who like my stuff. So here is why exactly you want visitors to be more engaged with your site: they'll be more likely to come back again, to share it with others, and to buy from you. This is what matters a lot more than the raw number of visitors shown by your web analytics application. How to get visitors more engaged? Here is how:
1. Proactively request feedback and make it easy, please
All these "Web 2.0" sites do it. They have a quick and visible feedback button somewhere on the page inviting you to share your thoughts with them. Here is why they do it:
Requesting feedback makes visitors feel more important. They'll be even happier if you send them a reply. They'll turn into fans if you implement some of their suggestions.

It's an excellent free way to learn what your visitors want instead of what you think they want. Maybe you work hard to write an article that no one cares to read, or maybe you are investing in a feature that no one wants. I know I've done that. Many times.

It's a good way to start conversation and why not a relationship.
Do it. Request feedback and make it easy. Don't put a "mail to" link that opens email client, please. I don't even have one configured. Unless your site is really that important for me I'd just close the client and forget about the feedback. You need an easy one-click web form with just an email field and a text box. It's an effective way of email marketing as well.
Here is an idea for something even simpler: put rating stars widget at the end of your articles or tools. Just a thing that we can vote by a single click. This way you'll know what the visitors like and will make them more engaged without having to marry you.
2. Let's stay connected!
This is easy. Don't be anonymous. Don't give only a boring contact form on your site. Make it easy to connect with you in many ways: Facebook page, Twitter account, email, IM, RSS, whatever you are comfortable to do. The more options you give your visitors to connect the more likely they are to do it.
3. Make me feel smart
Maybe I'm on your site to learn something. Maybe I'm there even to buy something. Why don't you help me check what I know about the subject you are in and show me what else I need to read or buy? There are many online exam makers, quiz makers and so on. It's easy to run some form of questionnaire and let your visitors have more fun on your site. Maybe they'll be back for more quizzes. Maybe they'll be proud to share their results. Maybe they'll ask friends to try your exam so they can compare results. Maybe they'll be back to read and learn more, or even buy. Different outcomes, but the final result for you is always more visits and more profits.
4. Widgetize yourself
Lots of text and nothing else – this is what most sites offer us. Boy, it's not 1998 anymore! Good text is good, but give me something more. Give me tools to play with, infographics to look at, calculators to figure out things, tasks to solve. Building related tools and widgets might be expensive but encourages real engagement. As a bonus, well done tools often attract links too. Don't forget your widgets should be related to your content. Throwing tons of unrelated games and currency charts on your gardening blog isn't going to help you much.
5. Let us customize your site
Adding a small login form or Facebook Like button on your site won't make it ugly. Don't be so afraid of that. Let us create accounts and login to your site even if its basic functionality doesn't require it. Then let us customize parts of the look, the content streams, newsletter preferences, messaging preferences, alerts, or why not even the layout! There are so many things that you could let us – your visitors and customers – customize in your site so it fits better what we like. This way we'll be a lot more likely to come again and again, and to share it… and you know what it leads to: more links, more visits, more sales, more revenue.
6. Sell stuff, take that cash
Even if you are running just a blog, you should figure out something to sell. Once I give you money our webmaster to visitor relationship turns into engagement. Once you make me give you some money, I'll be a lot more likely to trust you more, to be interested in what you have to offer, to give you money again. Creating something that you can sell is very useful exercise for every effective internet marketer no matter what kind of site you run. If your site is just informational, try to create a non-free info-product. If you are running a site listing third party games for example, now it's the time to create your own game. If you are offering a free software product, now it's the time for paid version.
Whatever it is, figure it out, and make something that you charge money for. Look at your site now. How many of these strategies are you using now. How much room do you have for improvement?
Guest Author: Bob H.