10 Things That Make Your Infographic Viral
The amazing news for the day is that the human brain can process visual information 60,000 times faster than textual information and more than 65% of us are visual learners. Today we have been so busy living and an image is exactly what we need to get the latest information in as little time as possible. This is the reason why everyone is coming out with infographics in the recent times.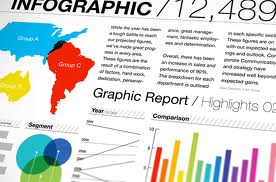 Infographic is indeed a new method to present the information that enables the viewers and readers to understand the most complicated data in the simplest way. As you can see, today most of the infographics go viral and some remain unnoticed. Why is this happening? As you browse through the internet, you can find lots of information on how to create an attention grabbing infographic but what a lot of experts don't reveal you is how to actually get it to go viral. So let's look at the 10 major things that you need to consider to make your infographic viral.
#1. Brainstorm for New Ideas
Every one of us crave for something new, fresh and creative. Brainstorm for an ingenious idea that is unique, appealing and interesting. It should be those "out-of-the-box" types of ideas backed with real data. Be original and you can get huge placements.
#2. Complete Research
Research is crucial to any successful viral infographic. For this, you need to understand your target audience and develop your content accordingly. Research on how to organize the information, how to visually represent the data and the various color themes, how to add humor, how to empathize your audience, how to add verifiable statistical data and how to represent the data clearly without overcrowding it.
#3. Design Elements
Make sure that your infographic design is cool and unique. Work with a professional designer to make it more attractive without compromising the quality of information and the underlying concept. It should convey your message with greater clarity and include all relevant information and details.
#4. Publish on Your Blog or Website
Now that you are ready with your infographic and it's time to publish it on your blog or website. As you publish, make sure that it includes all the elements for SEO and social promotion, comprises of text area form element with source code for backlinks, contains relevant keywords, encloses social sharing buttons to make it easy to share on Facebook, Twitter, etc. If done correctly, it can yield you great results.
#5. Submit a Press Release
By writing professional press release and submitting to top directories such as PR Newswire, PRWeb or Reddit, you will not only improve your keyword rankings but also create a steady stream of targeted traffic to your website.
#6. Share on Social Media
Create your infographic in the form of blog posts and then share that post on social media platforms such as Facebook, Twitter, Pinterest, Google+, LinkedIn, YouTube and other social media sites. The more social media platforms you use, the more will be your exposure.
#7. Submit to Directories
Submit your infographic to manifold directories that are dedicated to promote infographics specifically. Some of them include Visual.ly, Daily Infographic, Infographic Journal, Charts Bin, Chart Porn and more. These directories are very helpful and will tremendously enhance your publicity.
#8. Pay for Stumbles
Making a paid submission on Stumble Upon is really a great way to make your infographic go viral. They have a dedicated category of infographics and there are possibilities that can get you more than thousands of hits every month.
#9. Submit to Reddit
The place where new memes and sensations of the Internet appear first is Reddit. It has an exclusive subreddit for infographics and when you post your stuff here, it will be automatically featured on various blogs and Tumblr feeds, and when people find your stuff interesting, naturally it goes viral.
#10. Manual Outreach
There are two different ways to manual outreach your infographic. The first is to contact blog owners who might be interested in posting about it and the second is to reach out those people with popular Twitter accounts.
Final Thoughts…
Now I have mapped out the 10 major things that you need to do to make your infographic go viral. Although it might need some initial efforts from your side, it will soon be a worthwhile one for creating a steady flow of targeted traffic to your blog or website. The more interesting and attention-grabbing your infographic is, the better your chances on success are.
Author Bio
This article is contributed by Deb Dey who is a blogger and a contributor at Webs Agency